Partnering to Serve Your Employees' Needs

(intro)
---
Programs Supporting International Workers and Families
To serve the workforce needs of companies located in the area, the University of Mississippi has played an integral role in helping to develop programs for the international community in Mississippi, including:
The North Mississippi Japanese Supplementary School (NMJSS) was established under the support of The University of Mississippi and Japanese companies located in the area. The main purpose of this school is to help Japanese families and their students in grades 1-9 to maintain Japanese language, education and culture. Students have opportunities to study with other Japanese peers.
The Chinese Language Flagship Program,which has helped students develop Chinese language skills at several Mississippi public and private high schools.
---
Programs Promoting Workplace Wellness

Experts in the University of Mississippi's Department of Nutrition and Hospitality Services can help you develop resources to help your employees achieve health, wellness, and nutritional goals.  To read the story of how Melinda Valliant, associate professor and director of the Department of Nutrition and Hospitality Management's coordinated programs, helped GE Aviation develop a unique Workplace Wellness program,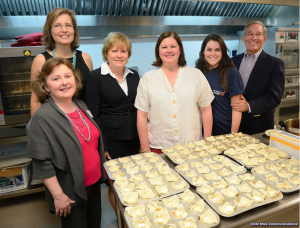 click here.